The one thing that tends to baffle those who are looking for the perfect ring is determining their ring size. Luckily here at Jewelle we have created a Ring Size Guide that explains the process of finding the perfect ring size, with a few key tips for ensuring that it fits comfortably. All of our ring sizes are
To determine your ring size, do the following:
First wrap the measuring tape (or string) around the base of the finger on which you plan to wear your ring. You want the string or tape to be snug, but not tight. Ideally the measuring tape should be cloth — if you are struggling to wrap a measuring tape around your finger, just switch to a string to ensure your measurement is accurate.
Use a pen to mark the tape where it overlaps or cut the small piece of string with scissors. Then, simply measure the string in millimeters, or note how many millimeters it took to wrap the measuring tape around your finger.
Finally, compare your millimeter reading to our ring size chart at the bottom of this page to find your perfect Jewelle ring size.
TIPS FOR MEASURING YOUR RING SIZE:
- Measure towards the end of the day when the finger is warm. When your fingers are cold there can be up to half a size difference.
- Rings that have a thicker band feel tighter than those that have a thinner band. If buying a thicker band, look to buy a full ring size bigger to allow room for movement.
- Your ring should always fit comfortably on your finger without any fear of it falling off.
- The most common ring sizes for women are 6 (16.5 mm), 6.5 (16.9 mm), and 7 (17.3 mm). For men, the most common sizes are 10 (19.8 mm), 10.5 (20.2 mm), and 11 (20.6 mm)
Our rings are based on CAN/USA size. For buyers outside CAN/USA, the conversion size is for reference only, please re-check the inside diameter/inside circumference.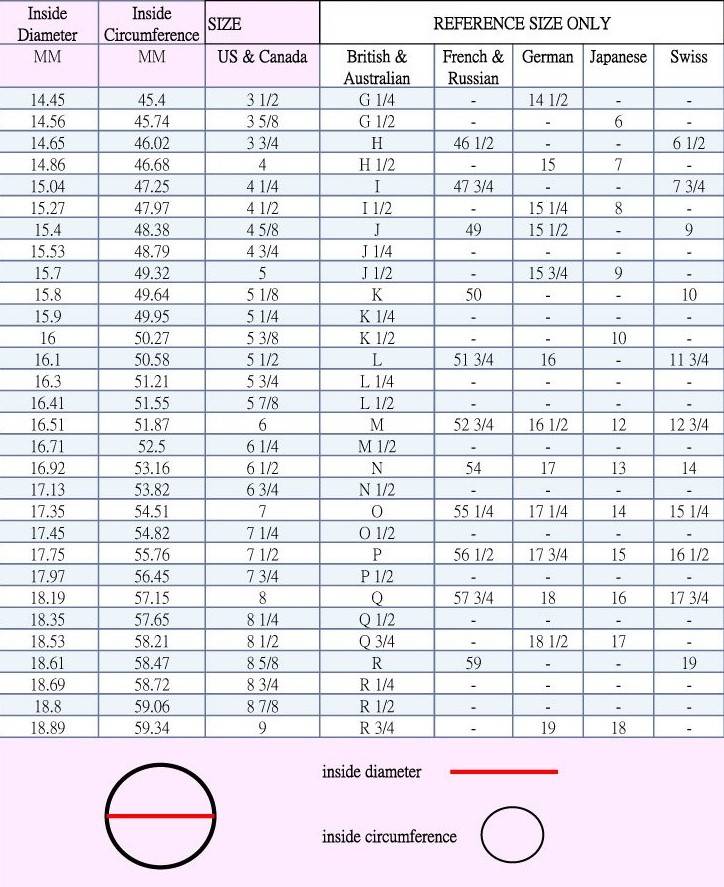 Necklaces Sizing Chart:
Necklaces come in varying lengths and styles. Length is the first thing to consider when shopping for necklaces. Which length is the most wearable? Use our chart to determine what size would suit you best!
Standard Necklace Lengths: